I've kept certain objects with me over the years because they tell a story or inspire me in some way — all I have to do is sit in one place and look around — they're all in plain view.  My cabin is my curiosity cabinet, full of rather neatly arranged, necessary clutter.  Unlike Thoreau who begrudged himself a single rock on his one table, I enjoy dusting my collectibles.   It's a time to hold them in my hands and ponder them.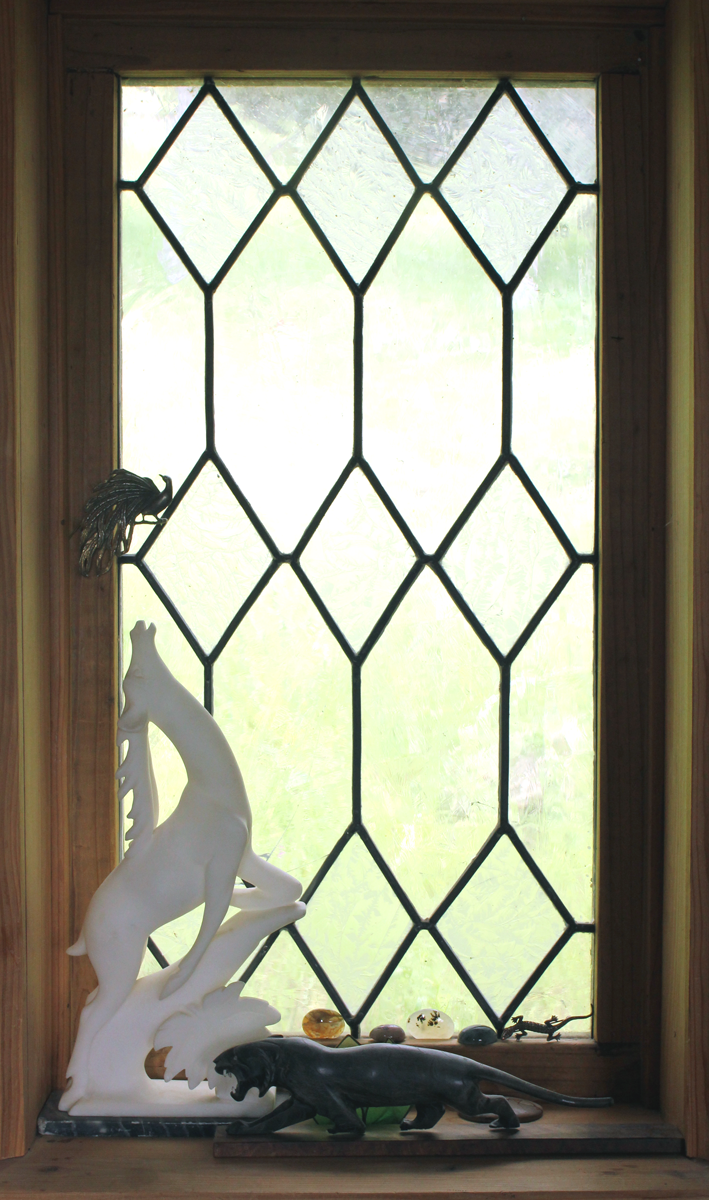 Windowsills can be thresholds between the manmade world and the natural world,or between the dreamworld and the waking world— a good place to arrange things that are of both, or look like something other than what they are, such as a piece of driftwood that looks like a fluted vase, or a rock that looks like a human face, beach glass that serves as water for a hand-carved fluke of a whale, a seed pod that looks like a mouse with a broken tail.
There's an alabaster Gazelle in one window —a small statue my father brought back from one of his trips to Rome.  It is the surviving one after I was bed-bouncing in my parent's room during nap-time and the mate to it fell to the floor and shattered.  The survivor was passed on to me after my father died, and I've kept it (bravo for me)  in one piece for decades now.  For years it has been stalked on one of my windowsills by an ebony panther which I bought in a flea market in Santa Cruz, CA.  A recurrent dream I had as a young child featured a black panther lunging at me.  I never told my parents or my sister because I felt they'd think it was a bad thing that I had brought upon myself.  In the windowsill the memories form a pleasing scenario that can be safely reviewed and reaccessed.  The Gazelle arches her long, graceful neck back in the pose of a give-away, one who renders herself up as food for a hungry predator.   Not too surprising, I've made a sketch of this scenario.  If a panther ever came at me in a dream again I'd ask it what it wanted of me instead of merely jerking awake with fright.  Or at least that's what I'd like to believe I'd do.  Unless someone has a better idea.  Now,  decades later, I believe the panther was telling me, in a startling way, to stay awake in my dreams, to remember them, and to be alert when I am awake during the daylight hours, come what may.